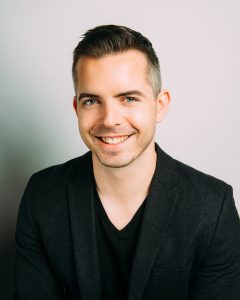 Jamie O'Connell
Jamie O'Connell is thirty-four years old and lives in Dublin. He was Highly Commended for the Costa Short Story Award 2018, short-listed for the Maeve Binchy Award and the Sky Arts Future's Fund, and long-listed for BBC Radio 4 Opening Lines Short Story Competition. He has received bursaries from The Arts Council of Ireland (2019), Culture Ireland, Dublin City Council and Cork City Council. He teaches in University College Dublin and works for Penguin Random House. He was on the committee of Dublin Book Festival (2014-16) and one of the judges of the Irish Bookseller of the Year Award 2018.
O'Connell's critically acclaimed debut short story collection Some Sort of Beauty  was published by Bradshaw Books in 2012 (read reviews here). He presented a copy to President Michael D Higgins in Aras an Uachtarain in June 2012 (pictures here). His work has been published in a number of journals, featured on TV3, RTE Radio and BBC Radio, and he has read at many festivals and universities in Ireland, China, Spain and the USA. He has an MFA and MA in Creative Writing from University College Dublin and a BA in English Literature and History of Art from University College Cork.
In May 2017, Best-Loved Joyce, edited by O'Connell, was published (reviews here). It was launched by Sen. David Norris in the James Joyce Centre (Dublin) as part of the 2017 Bloomsday Festival.
O'Connell has published two humorous books, You Know You're Irish When… and Irish Home Essentials, under the pseudonym Séamus Ó Conaill. His first children's book, Spuds and the Spider, has been published under the same name.